Top Hill Country Award for Gisborne Hereford Breeders

Article by Kate Taylor 2019 NZ Hereford Magazine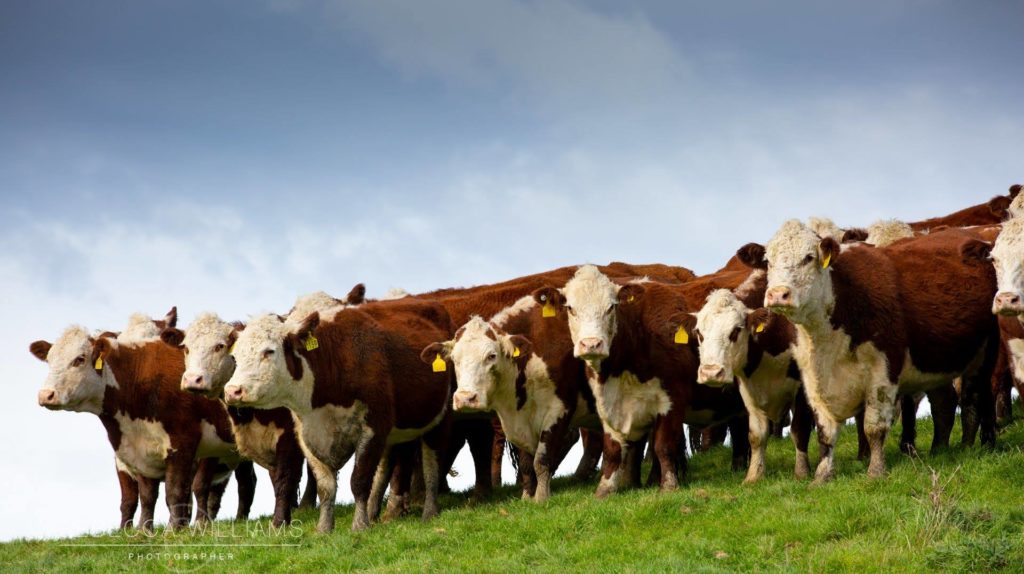 Congratulations to the Reeves family of the Mokairau Hereford Stud for winning the Gisborne – Wairoa Federated Farmers Hill Country Farmer of the Year award in 2018.
Mokairau is a 2867ha property (2288ha effective) running close to 22,000 stock units on four properties on the East Coast north of Gisborne.
Mokairau, the home farm at Whangara, has been in the family since 1926 – Peter and Christine tookover from Peter's parents, David and Joy, more than 40 years ago, and are welcoming the next two generations. Jon and Chloe Reeves run Waihapua, Sam Reeves runs Mangaroa, Sophie and Nick Land
run Mangaone, which the Reeves purchased in February, and Peter and Christine run Mokairau. Two other sons, Richard and Matthew, work off the property. Ten grandchildren are also being nurtured into the Mokairau culture and farming life.
"It's the involvement of our whole family that we think makes Mokairau the successful operation it is," Peter told the Gisborne Herald after the win was announced in April 2018. More than 180 farmers and agribusiness people attended their winner's field day at Mokairau, where Peter Andrew from AgFirst described the Reeves as a highly motivated family team.
"A key driver of their success is the way the family does a lot of hard work to keep the costs down. They fire off each other in their running of the properties and they work so well together."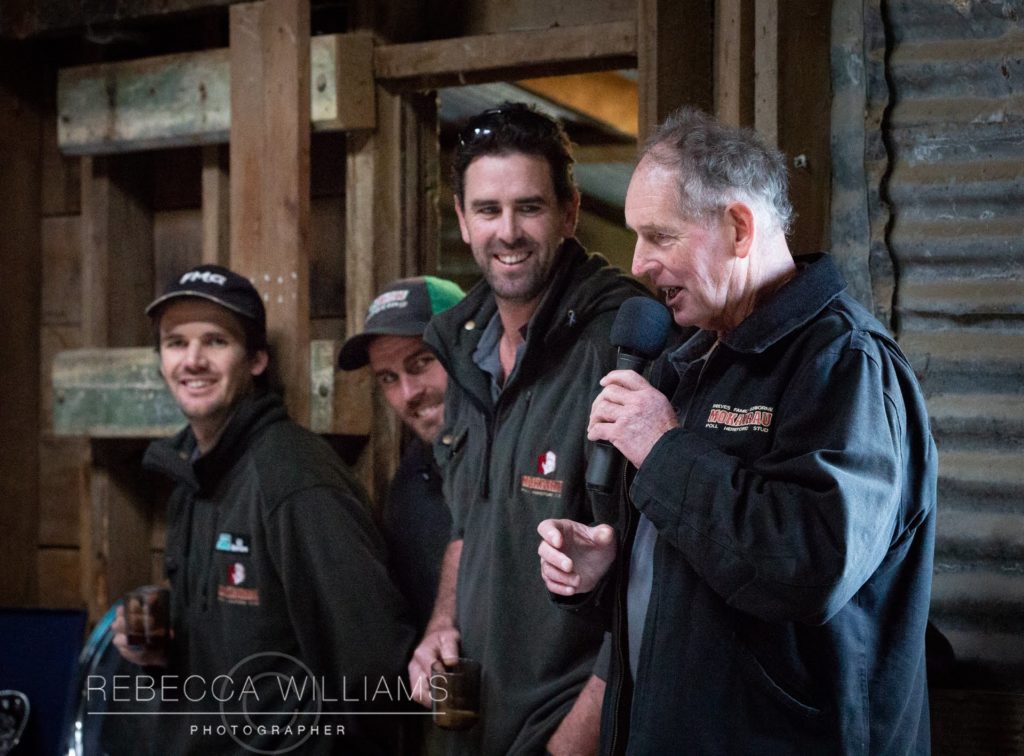 As well as leasing out land on a per hectare basis for commercially grown sweetcorn or squash, the properties are home to cattle, sheep and deer.
About 200 hinds produce velvet stags and venison. The 5500 Romney/Poll Dorset ewe flock supplies early season lambs. Driven by Nick, there is also a new sheep-milking arrangement with Waimata Cheese.
On the cattle side, which makes up 70 per cent of the stock units in the business, the stud has 300-320 recorded stud cows plus R2 and weaner heifers. Total cattle numbers in the business are 2800- 3000 including dairy grazers, which are a "big part of our business now and are important for
monthly cash flow," he says.
But the Hereford breed is where their passion is. The Mokairau Hereford stud was established in 1954 by Peter's father David after he purchased five cows from the Wilencote jubilee sale. David was one of the founding members of the Eastland Hereford Club in 1968 and president of the NZ
Hereford Association in 1978/79.
The Reeves have been DNA/sire verification testing since 2006 and moved to SNP technology in 2012 to collate an extensive database of information.
The stud has sold 31 bulls in 2018 for an average price of $6774 with the top price of $11,500 paid by Papanui Station. The 2019 sale will see an offering of 35 bulls.
They are no strangers to bidding for the stud bulls they want and have paid top Hereford prices in the past – Kairuru Lasso for $20,000 in 2016, Glenbrae Judas for $30,000 in 2015 and Waikaka Skytower for the third-top price of $33,000 in 2014 (any in 2017 or 2018?)
Peter is also a director of Tauwharepare Farms Ltd, which is owned by the Gisborne District Council and covers 11,250ha (6500ha effective) and winters 62,000su.
At the award field day, Christine said it was a lovely opportunity for the family to showcase Mokairau.
"This is a magnificent piece of country that we are lucky to live on. I know Peter felt humbled to win this competition, but he is also quite proud of it, and with good reason."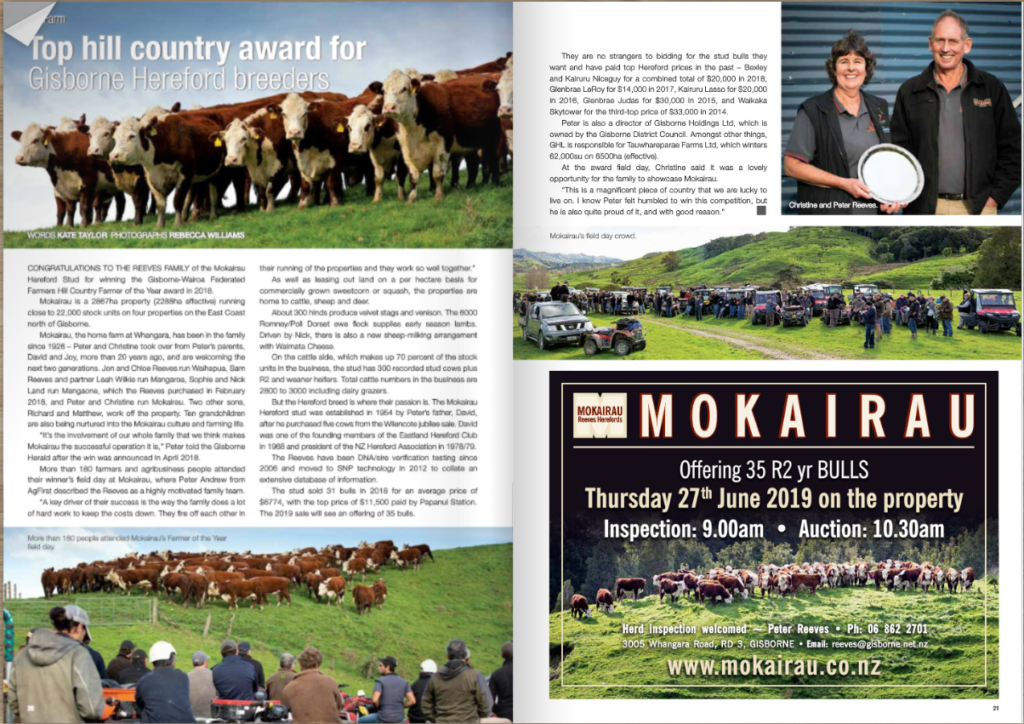 Seven generations tread the soil at Tolaga
Article by Kate Taylor, NZFarmer via Stuff.co.nz – June 9 2016
A Gisborne couple's business is as much about family as it is about farming. Kate Taylor visited Whangara to see a large farming family in action.
It's a welcome respite from Mokairau's shearing shed for three of the four Reeves boys and their brother-in-law who have been doing a quick belly crutch of the farm's ewe flock.
Peter and Christine Reeves and their family farm 20,000 stock units on more than 2000ha at Whangara, north of Gisborne. The business includes 5500 ewes, up to 3000 head of cattle of different classes and a deer unit. They've been deer farming since the 1980s with 200 hinds producing velvet and venison.
The home block, Mokairau, is 990ha, neighbouring lease block Mangaone is 520ha and the 550ha Waihapua is about 20 minutes' drive away.
Peter and Christine live on Mokairau. Daughter Sophie and her husband Nick Land manage Mangaone and son Jon and his wife Chloe manage Waihapua. The oldest son Richard is a police officer in Tolaga Bay. Matthew is building off-farm business interests after returning from driving trucks in Canada and youngest son Sam is also home after a hand injury forced a career change from shearing.
"Sam has a good team of dogs and is looking to move into farming once the hand is healed," says Peter, who adds there are always new opportunities around the next corner and maybe something involving the family business.
"That's always been our motivation to make a success of farming… to set things up for the next generation. Pastoral farming is in their DNA. The strength of our whole business is family and succession," he says.
"They've all been away and worked in other places. Jon and Sam have both worked at Turihaua, Sam was at Hains at Waikura for a while and Matthew worked for Lanes at Whangara, among other farming jobs, but they're now coming back to the family business with a lot of youth, motivation and spirit."
"It's nice to stick together as a family farming enterprise and to take steps with other properties. It also adds equity and strength to any borrowing," says Christine.
"We have a lot of fun together too."
In an echo of generations gone before them, it's not an uncommon sight to see Peter working around the farm with one or two of his eight grandchildren in tow.
"Just like your father did with our kids and Stan did with you," Christine tells Peter.
Peter's great, great, great grandfather, Andrew Reeves, settled in Tolaga in 1865, which was farmed with his son James. Peter's grandfather Stan bought Mokairau in 1927, his father David took over the reins in the 1960s and Peter took over in 1997, which makes Peter and Christine's grandchildren the seventh generation to tread soil in the district.
The Mokairau Hereford Stud was started in 1954 when David bought five cows from the Wilencote jubilee sale.
"My grandfather Stan and Fred Humphreys (from Wilencote) were good mates, that's where the interest in stud cattle started," explains Peter.
"I used to love jumping in the car with them on trips to see cattle. Those were the days when kids were seen and not heard and I must have just absorbed so much of that conversation. I love taking the grandkids out with me and it's great having them living close enough to make it work. Plus the stud cattle business is farming and a hobby all in one. It has been an extension of work so there hasn't been too much time for other hobbies."
The focus of the Mokairau Hereford Stud is to produce a good line of two-year-old bulls every year – 35 bulls are being sold at the on-farm auction on Thursday June 30 – and to continue to invest in the best genetics it can while reaping the benefits of those purchases, Peter says.
They are no strangers to bidding for the stud bulls they want and have paid top hereford prices at the last three Beef Expo events – this year it was Kairuru Lasso for $20,000, last year Glenbrae Judas for $30,000 and in 2014 they bought Waikaka Skytower for the third-top price of $33,000.
"Last year, Jon and Nick and I were looking at the bulls together but making comments in our own catalogues. When we compared notes at the end of the day, we had all marked the same four bulls. That was uncanny, but shows we're all thinking the same and like the same cattle. We managed to buy our top two choices, which was even better. This year Christine and I bought two bulls and Jon bought one."
Peter says the hereford breed is versatile with the impact of crossing genetics for hybrid vigour or breeding bulls for the dairy industry.
"Cattle farmed on Mokairau are based on structural soundness, easy finishing and other attributes of the breed, notably their temperament, fertility, longevity and they have to be appealing to the eye. EBVs are also an important tool in our toolbox and help with the overall package."
The Reeves have been DNA/sire verification testing since 2006 and moved to SNP technology (single nucleotide polymorphism/gene selection) in 2012 so have collated an extensive database of information.
The stud has 300-320 recorded stud cows plus R2 and weaner heifers. Total cattle numbers in the business are 2800-3000 including dairy grazers, which are a "big part of our business now and are important for monthly cash flow," he says.
"All progeny are finished. We feed those animals as best we can the whole time to get the optimum from them. We're not scientific about it but we do try to capture premiums in the market whether that be early lambs off mum or the winter market for cattle.
"Our number of stock units per hectare has come back slightly but the weights are up, so although cattle prices are up we're also capturing more value."
The farm runs 5500 romney-poll dorset ewes. All lambs and ewes are processed at Ovation.
Normally the Reeves only pregnancy-scan ewe hoggets, but this year they have also scanned some of their mixed-age ewes to find out the impact of a new direction with east friesian genetics.
"Nick and Sophie have been investigating sheep milking and went to a sheep milking conference earlier this year," says Peter.
"We are dealing with a local cheese maker who has the processing and distribution networks needed to further such a business. We've just put the first east friesian rams over 550 of the poll dorset ewes and 400 poll dorset hoggets and had a 97 per cent conception rate. Plus we had already taken the big ones off in the first draft so next year we'll choose some of those replacements first. We're also putting poll dorsets over another flock to retain the poll dorset base to keep breeding. It's our intention to get lactating ewes more than once a year."
The family has shorn all their own sheep for the past eight years. It was Peter's idea to teach the boys to shear, says Christine.
"He was a shearer himself for a few seasons when he was young. He set them a goal once they'd shorn 1000 he would buy them a hand piece and it grew from there."
The Reeves are passionate about farming and most of their off-farm interests are related to agriculture. Peter is chairman of the TB Free Gisborne committee and a director of the Gisborne District Council's company Gisborne Holdings Ltd, which owns Tauwhareparae Farms Ltd.
Jon was a Hereford Youth Ambassador this year. Both Peter and his father David have held positions within hereford breeding circles as well – David was one of the founding members of the Eastland Hereford Club in 1968 and was president of the NZ Hereford Association in 1978/79.
David and Joy retired to Gisborne but are frequent visitors to Mokairau.
Christine grew up in Gisborne where her parents had a building business. She met Pete when she was 17 and the pair travelled overseas in the late 1970s working in a range of jobs, including shearing gangs.
"Since then I've been happily rearing our family, doing the farm administration and being the woman behind the good man," she says with a smile.
The family breeds and breaks in its own horses for use on the farm, Jon especially loves horses and doing stock movements on horseback, and they all love hunting and fishing.
"The younger kids are starting to appreciate a few dollars from fur from plucking possums too."
Peter says issues such as pest control and conservation are huge for them.
"We're caretakers of this land. We've been trying to look after it and improve it while we farm it. We have fenced seven big blocks of native trees and we can see the improvements there with undergrowth and increasing bird life. We've also fenced part of our 7.5km river frontage (both sides) on the lease block," he says.
"It's all about conservation and looking after it for future generations."