Please click the link below to watch our episode of Country Calendar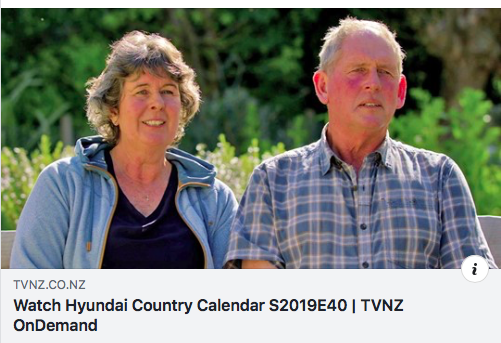 Cementing their place as 'caretakers'

Article by Dianna Dobson, Gisborne Herald
IT'S A FAMILY AFFAIR: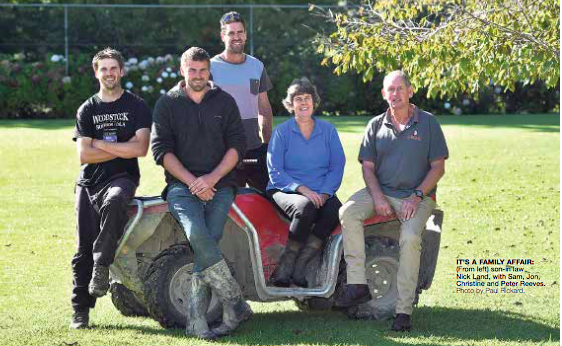 At a time when Peter and Christine Reeves might be thinking about pulling back a little from their busy farming operation, they instead bought four more properties to ensure they had a solid base for future generations. And they're quick to deflect any kudos, instead tipping their hats to those who have gone before them. "It is the sacrifices and vision of the previous generations that have allowed this to happen," says Christine. " They decided to do that, and pass it on, so we are too." Peter likes to think they are just "caretakers of our period".
"With farming like this, you can't do it in just one generation," he says. "It has to be done with a lot of succession planning."their debt but a discussion grew out of their children working for others. "Why not grow the family business," asked Peter. "We are very fortunate to have the bank that we do. They understand our business . . . and having children who are passionate about the land and animals."
The couple have five children, three of whom are on East Coast farms. Richard the eldest is the Tolaga Bay policeman, Matthew is developing a vineyard in Cromwell, Jon with his wife Chloe farm Waihapua Station, Sophie and her husband Nick Land farm Mangaone Station and Sam with his partner Leah Wilkie are charged with Mangaroa Station.
Peter and Christine are on Mokairau Station, which in 2018 won the Hill Country Farm of the Year crown and was started by Stan in 1926. The Reeves family initially started out the back of Tauwhareparae and expanded to buy Mokairau between three brothers.
"History rolls over doesn't it," says Peter, whose grandchildren will be the seventh generation to farm on the East Coast. "It is in our DNA. Andrew arrived from Scotland in 1856. He was a farmer before coming to New Zealand and in 1863 brought the first sheep up from Takapau to the coast."In more recent years as the family bought more land, they were constantly reminded that a good farm will always be a good farm. "Assets like that will always appreciate," says Peter.
The Hereford Stud, started in 1954 by Stan and Peter's father David, is his passion and something he keeps an extremely close eye on."We are breeding bulls for hill country so they have to be structurally sound and active to get over the hills. If they were for the dairy industry it would be quite different. If you introduce the wrong sire for what they are intended for you can stuff up quite quickly. It is harder to breed a good cattle beast or a horse than it is to put a car together." The stud holds an annual on-farm bull sale which is well-attended by mostly local farmers but also others from outside of the district. For 14 years they have been DNA testing their progeny and also foetus age at pregnancy testing. These two activities have brought huge benefit to the management of the stud.
The four farms are run to make the most of each property's forte. Family meetings are regular and robust. Stock is bred on Waihapua and Mangaroa stations and brought down to Mokairau Station to be finished off. They also do long-term dairy grazing at Mangaone Station.
A high priority for the Reeves is biosecurity and ensuring nothing enters the property that hasn't been well checked and screened. e arrangement with the dairy farmers goes even further — after being impregnated through the AI programme the Reeves supply all the bulls that go to their property for breeding and then buy back the Hereford/Friesian crosses. Diversification is important to ensure longevity. "As producers we need to be mindful of people eating less meat with a lot of discussion around plant-based diets," says Peter. "We can actually consume a big part of our quality cuts in New Zealand which is good to see. The more we can consume internally will ensure a more even spread of pricing inside the farm gate." When former Prime Minister Bill English was in town in October, he warned farmers of putting everything into a single market, such as China. "He suggested taking a lesser payback from other countries to spread the portfolio. Now look at the predicament of the world with the coronavirus and the flow-on effect it is having."
The couple would love to see the urban sector have a greater understanding about farming. As a judge in the Ballance Environmental Awards, Peter says he sees a lot of good practice happening behind farm gates. "My belief is to ensure the right tree is being planted in the right place, whether that be for erosion control, harvest or preservation." For many years the family has been actively fencing off their stands of native bush to preserve for future generations as well as erosion control.
Both Christine and Peter say it is a huge privilege to be able to have the wider family all involved on the farms. From the youngest of their 11 grandchildren through to the eldest, at 13, they all contribute in some way. "The older ones are starting to understand the value of money, which is good," says Peter. "They learn about tax, where it goes, GST and other things that are good grounding for them all."
Peter has fond memories of his own childhood on the farm. "I would go everywhere with my grandfather Stan, partly because of the ice creams that were often on offer."Stan was a former president of New Zealand Federated Farmers and instrumental in negotiating quotas for New Zealand export beef and lamb. Peter remembers, too, going to the cattle fair with Stan and calling in to see the family accountant on the way home to report back.
Christine had no involvement with farms before she met Peter at 17. The daughter of Anne and Brian Emms, who owned Emms Building, her plan was to travel. "I just wanted to travel — anywhere," she said. "I thought about being an air hostess but that never eventuated." As a teen she would help Peter on the farm at the weekends and also in the shearing sheds. "It was ideal really," says Peter. "She had no bad habits from growing up on a farm!" At 19 the two headed overseas where they made their money to travel in shearing gangs. Relationships are key to the success of the Reeves family. at stretches far beyond the farm gates to agents, accountants, buyers and more.
"When it comes to making decisions, that has to be a strength," says Peter. Any issues within the farm are dealt with immediately."The vision is to stay together for a certain time," says Peter. "The children now understand our vision and while there are challenges, if we stick together for the short term, they will all be better off in the long term."
The scale of their operation and the way it has been established mitigate a lot of the risk. It's a long way from the early 1980s and Cyclone Bola and Peter is confident pastoral farming on the East Coast will continue to thrive.
He is often used as a sounding board for others finding their way too."I get a lot of joy out of helping people. e fundamentals of our type of business can be rolled out." He is a long-standing director for Gisborne Holdings Ltd, is a member of the Whangara Farm Discussion Group, involved with Eastland Hereford Cattlemen, was on the Silver Fern Farms Suppliers Council for five years, Gisborne Animal Health Board chairman, chairman of Whangara Federated Farmers and other community posts.
They have ridden the highs and lows of farming including droughts, high interest rates, accidents and illness, and seen massive improvements and changes across the industry thanks to science and innovation.
They've pushed on and done their own R&D too, including breeding ewes for the Waimata Cheese milking flock, and achieved three lambings in two years without chemical assistance.
Last year the family featured on Country Calendar. The producers had been asking for three years to do a story on the award- winning multi-generational operation and it took Sophie to get it over the line with her brothers. "They just weren't so keen," says Peter. "It was a good chance for us to showcase the Coast. Outside of the district it is perceived there are only trees up there and nothing could be further from the truth." The feedback the family received was hugely positive and the screening all the more special because it was dedicated to Peter's father David who died a month after the filming. "It was a rollover from dad's farewell really which was great," says Peter. "It was quite special." True to form they all got together with family and friends to watch the programme. "When you have a love of the land and farming, it is lovely to have the opportunity to work in a business that we love, with the people we love," says Christine.
For Peter, it goes a step further. "It sounds corny but when you do something you enjoy, it isn't work," he says. And he is doing his best to ensure that work ethic and passion continues in generations to come.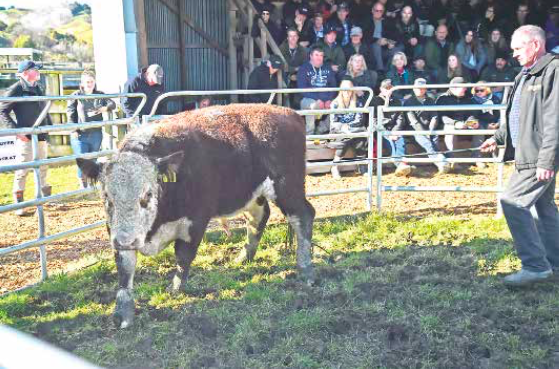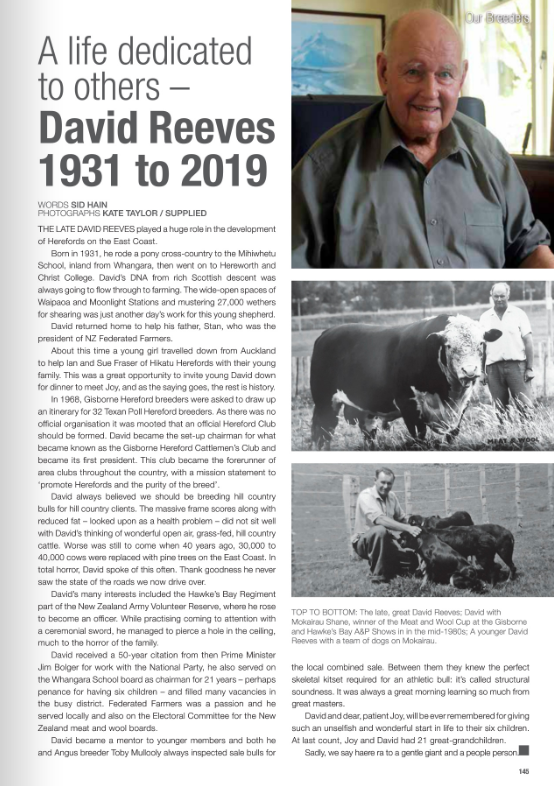 Family and fun at the core of Reeves

Article by Richard Loader
A strong sense of family, having fun and work- ing together is at the heart of success for the Reeves family that has spanned six farming generations with another in the wings.Peter Reeves grew up on Mokairau, the family farm near Tolaga Bay that had been home to his father and grandfather before him. "We could not have done what we've done in one generation to get where we have got. My parents and grandparents put us on the road to how we do things now and how we think."Peter and Christine took over Mokairau – a 1000 hectare sheep and beef operation with a Hereford stud – in the late 1990s when Peter's parents retired. At that point Peter wrote a business plan that has been the farm's blueprint ever since.Debt repayment, succession planning, com- munication, building relationships and surrounding yourself with the right professional team have been Mokairau's cornerstones of success."At certain periods of the journey we haven't had a good run – we have had droughts and high interest rates in the '80s and '90s. You plan – but sometimes there's a bit of a roadblock that you have to get up and over and get going again. Those hurdles made me stronger and helped understand risk management."
With adult children bearing the family's farming DNA, the family made a call to buy three additional farms all within a 30-minute drive of Mokairau and for each of those farms to be managed by one of the siblings. Jon and his wife Chloe farm 700ha in Waihapua, just inland from Tolaga Bay, Sam and his partner Leah, look after Mangaroa, a 850 hectare property between Tolaga and Tokomaro Bay, while daughter and son-in-law Sophie and Nick manage 520ha Mangaone Station next door to Mokairau. Eldest son Richard is a local policeman, but still likes to help out behind the farm gate, while another son, Matthew, is currently developing a Central Otago vineyard but due home shortly. While Mokairau and Mangaone are flat to rolling country, Waihapu and Mangaroa are hill country farms and breed a lot of Mokairau's finishing stock.
"We finish all our stock and have complete control of our supply chain," says Peter. "Our ratio is 60% cattle, 30% sheep and 10% deer. And we breed our own horses for high country mustering. We do a bit of cropping on the flats – cash cropping and stock feed – and some dairy grazing and do a lot of our own shearing and mustering." Sharing labour and working together is all part of the risk management strategy – if someone is sick or on holiday, another person knows where the animals are and what needs to be done on each other's farm.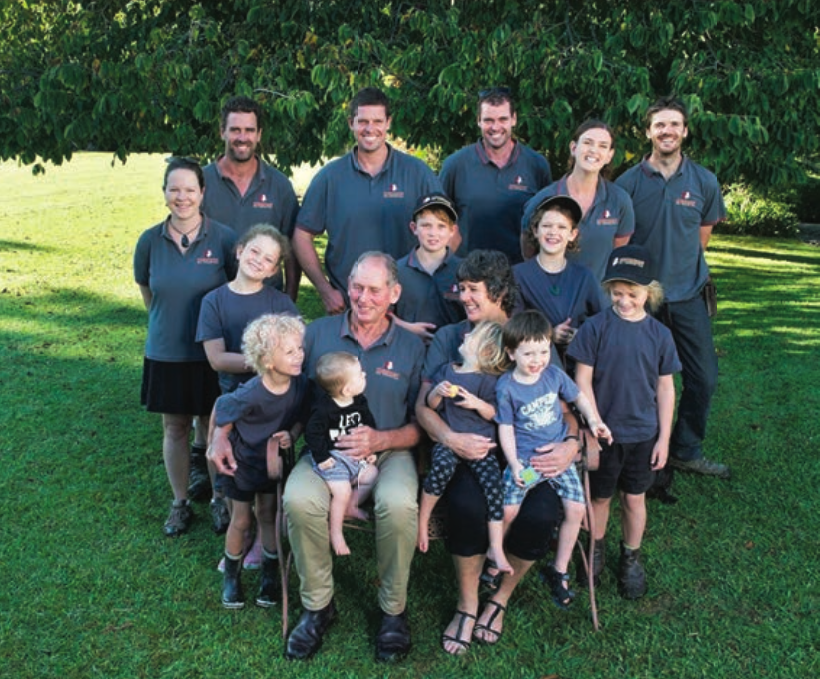 Peter says communication is key with regular and robust family meetings ensuring everyone knows what is happening and has a say in decisions.With three generations across four farms, the grandkids get involved too."To me it's great bonding – there are 11 grand- kids – the seventh generation. We all get on very well and have a lot of fun together." Working together as a family, the vision is that each sibling will eventually own their own farm.
"Since purchasing the farms we have invested in a lot of repair and maintenance – so new sheep and cattle yards and fencing and things like that. The children wouldn't have been able to get where they have got if Mokairau had not been debt free and we could leverage off that to grow the business. With the structure the way it is now they can buy into the operational side very easily and buy livestock any time they like."
On the delicate question of retirement, Peter says he just enjoys farming."We're half an hour out of Gisborne's main centre and on the main road so as long as my health is good and the boys want me around I will be here.I enjoy being part of their lives and the grandkids lives."
"To me it's great bonding – there are 11 grandkids – the seventh generation. We all get on very well and have a lot of fun together."
Top Hill Country Award for Gisborne Hereford Breeders

Article by Kate Taylor 2019 NZ Hereford Magazine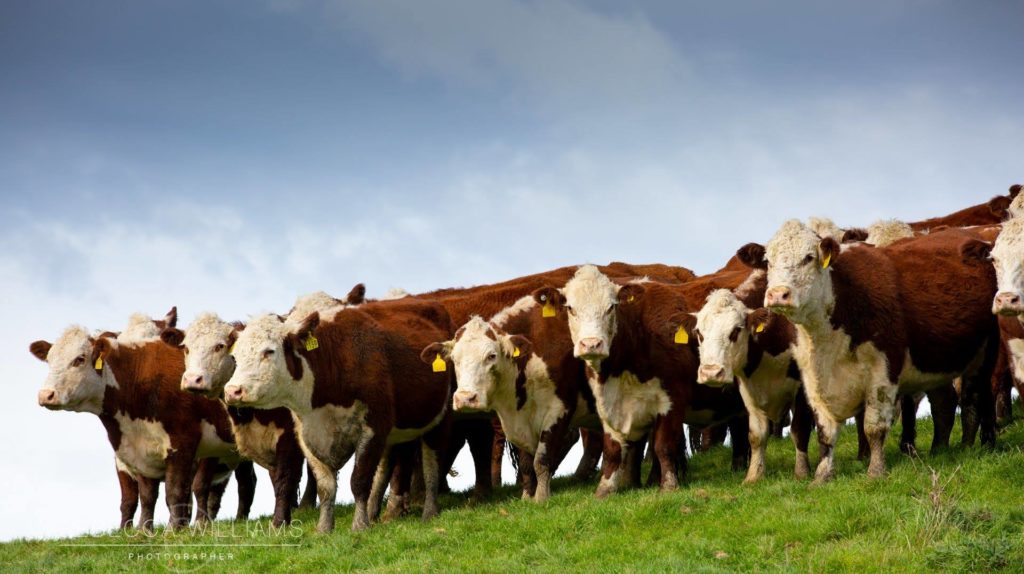 Congratulations to the Reeves family of the Mokairau Hereford Stud for winning the Gisborne – Wairoa Federated Farmers Hill Country Farmer of the Year award in 2018.
Mokairau is a 2867ha property (2288ha effective) running close to 22,000 stock units on four properties on the East Coast north of Gisborne.
Mokairau, the home farm at Whangara, has been in the family since 1926 – Peter and Christine tookover from Peter's parents, David and Joy, more than 40 years ago, and are welcoming the next two generations. Jon and Chloe Reeves run Waihapua, Sam Reeves runs Mangaroa, Sophie and Nick Land
run Mangaone, which the Reeves purchased in February, and Peter and Christine run Mokairau. Two other sons, Richard and Matthew, work off the property. Ten grandchildren are also being nurtured into the Mokairau culture and farming life.
"It's the involvement of our whole family that we think makes Mokairau the successful operation it is," Peter told the Gisborne Herald after the win was announced in April 2018. More than 180 farmers and agribusiness people attended their winner's field day at Mokairau, where Peter Andrew from AgFirst described the Reeves as a highly motivated family team.
"A key driver of their success is the way the family does a lot of hard work to keep the costs down. They fire off each other in their running of the properties and they work so well together."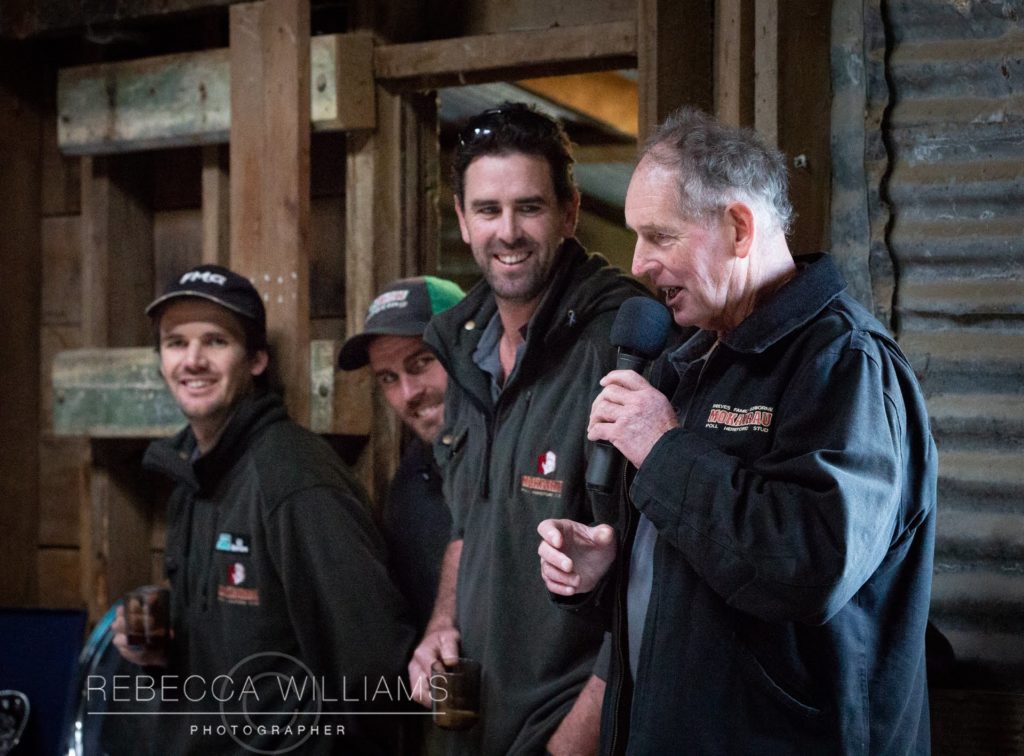 As well as leasing out land on a per hectare basis for commercially grown sweetcorn or squash, the properties are home to cattle, sheep and deer.
About 200 hinds produce velvet stags and venison. The 5500 Romney/Poll Dorset ewe flock supplies early season lambs. Driven by Nick, there is also a new sheep-milking arrangement with Waimata Cheese.
On the cattle side, which makes up 70 per cent of the stock units in the business, the stud has 300-320 recorded stud cows plus R2 and weaner heifers. Total cattle numbers in the business are 2800- 3000 including dairy grazers, which are a "big part of our business now and are important for
monthly cash flow," he says.
But the Hereford breed is where their passion is. The Mokairau Hereford stud was established in 1954 by Peter's father David after he purchased five cows from the Wilencote jubilee sale. David was one of the founding members of the Eastland Hereford Club in 1968 and president of the NZ
Hereford Association in 1978/79.
The Reeves have been DNA/sire verification testing since 2006 and moved to SNP technology in 2012 to collate an extensive database of information.
The stud has sold 31 bulls in 2018 for an average price of $6774 with the top price of $11,500 paid by Papanui Station. The 2019 sale will see an offering of 35 bulls.
They are no strangers to bidding for the stud bulls they want and have paid top Hereford prices in the past – Kairuru Lasso for $20,000 in 2016, Glenbrae Judas for $30,000 in 2015 and Waikaka Skytower for the third-top price of $33,000 in 2014 (any in 2017 or 2018?)
Peter is also a director of Tauwharepare Farms Ltd, which is owned by the Gisborne District Council and covers 11,250ha (6500ha effective) and winters 62,000su.
At the award field day, Christine said it was a lovely opportunity for the family to showcase Mokairau.
"This is a magnificent piece of country that we are lucky to live on. I know Peter felt humbled to win this competition, but he is also quite proud of it, and with good reason."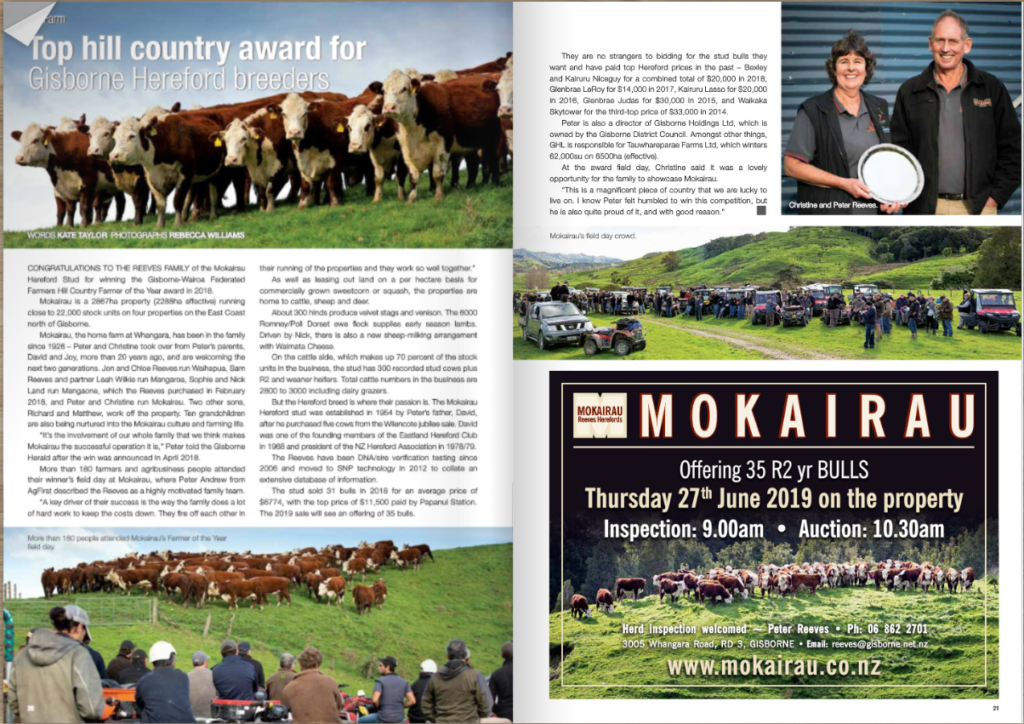 Seven generations tread the soil at Tolaga
Article by Kate Taylor, NZFarmer via Stuff.co.nz – June 9 2016
A Gisborne couple's business is as much about family as it is about farming. Kate Taylor visited Whangara to see a large farming family in action.
It's a welcome respite from Mokairau's shearing shed for three of the four Reeves boys and their brother-in-law who have been doing a quick belly crutch of the farm's ewe flock.
Peter and Christine Reeves and their family farm 20,000 stock units on more than 2000ha at Whangara, north of Gisborne. The business includes 5500 ewes, up to 3000 head of cattle of different classes and a deer unit. They've been deer farming since the 1980s with 200 hinds producing velvet and venison.
The home block, Mokairau, is 990ha, neighbouring lease block Mangaone is 520ha and the 550ha Waihapua is about 20 minutes' drive away.
Peter and Christine live on Mokairau. Daughter Sophie and her husband Nick Land manage Mangaone and son Jon and his wife Chloe manage Waihapua. The oldest son Richard is a police officer in Tolaga Bay. Matthew is building off-farm business interests after returning from driving trucks in Canada and youngest son Sam is also home after a hand injury forced a career change from shearing.
"Sam has a good team of dogs and is looking to move into farming once the hand is healed," says Peter, who adds there are always new opportunities around the next corner and maybe something involving the family business.
"That's always been our motivation to make a success of farming… to set things up for the next generation. Pastoral farming is in their DNA. The strength of our whole business is family and succession," he says.
"They've all been away and worked in other places. Jon and Sam have both worked at Turihaua, Sam was at Hains at Waikura for a while and Matthew worked for Lanes at Whangara, among other farming jobs, but they're now coming back to the family business with a lot of youth, motivation and spirit."
"It's nice to stick together as a family farming enterprise and to take steps with other properties. It also adds equity and strength to any borrowing," says Christine.
"We have a lot of fun together too."
In an echo of generations gone before them, it's not an uncommon sight to see Peter working around the farm with one or two of his eight grandchildren in tow.
"Just like your father did with our kids and Stan did with you," Christine tells Peter.
Peter's great, great, great grandfather, Andrew Reeves, settled in Tolaga in 1865, which was farmed with his son James. Peter's grandfather Stan bought Mokairau in 1927, his father David took over the reins in the 1960s and Peter took over in 1997, which makes Peter and Christine's grandchildren the seventh generation to tread soil in the district.
The Mokairau Hereford Stud was started in 1954 when David bought five cows from the Wilencote jubilee sale.
"My grandfather Stan and Fred Humphreys (from Wilencote) were good mates, that's where the interest in stud cattle started," explains Peter.
"I used to love jumping in the car with them on trips to see cattle. Those were the days when kids were seen and not heard and I must have just absorbed so much of that conversation. I love taking the grandkids out with me and it's great having them living close enough to make it work. Plus the stud cattle business is farming and a hobby all in one. It has been an extension of work so there hasn't been too much time for other hobbies."
The focus of the Mokairau Hereford Stud is to produce a good line of two-year-old bulls every year – 35 bulls are being sold at the on-farm auction on Thursday June 30 – and to continue to invest in the best genetics it can while reaping the benefits of those purchases, Peter says.
They are no strangers to bidding for the stud bulls they want and have paid top hereford prices at the last three Beef Expo events – this year it was Kairuru Lasso for $20,000, last year Glenbrae Judas for $30,000 and in 2014 they bought Waikaka Skytower for the third-top price of $33,000.
"Last year, Jon and Nick and I were looking at the bulls together but making comments in our own catalogues. When we compared notes at the end of the day, we had all marked the same four bulls. That was uncanny, but shows we're all thinking the same and like the same cattle. We managed to buy our top two choices, which was even better. This year Christine and I bought two bulls and Jon bought one."
Peter says the hereford breed is versatile with the impact of crossing genetics for hybrid vigour or breeding bulls for the dairy industry.
"Cattle farmed on Mokairau are based on structural soundness, easy finishing and other attributes of the breed, notably their temperament, fertility, longevity and they have to be appealing to the eye. EBVs are also an important tool in our toolbox and help with the overall package."
The Reeves have been DNA/sire verification testing since 2006 and moved to SNP technology (single nucleotide polymorphism/gene selection) in 2012 so have collated an extensive database of information.
The stud has 300-320 recorded stud cows plus R2 and weaner heifers. Total cattle numbers in the business are 2800-3000 including dairy grazers, which are a "big part of our business now and are important for monthly cash flow," he says.
"All progeny are finished. We feed those animals as best we can the whole time to get the optimum from them. We're not scientific about it but we do try to capture premiums in the market whether that be early lambs off mum or the winter market for cattle.
"Our number of stock units per hectare has come back slightly but the weights are up, so although cattle prices are up we're also capturing more value."
The farm runs 5500 romney-poll dorset ewes. All lambs and ewes are processed at Ovation.
Normally the Reeves only pregnancy-scan ewe hoggets, but this year they have also scanned some of their mixed-age ewes to find out the impact of a new direction with east friesian genetics.
"Nick and Sophie have been investigating sheep milking and went to a sheep milking conference earlier this year," says Peter.
"We are dealing with a local cheese maker who has the processing and distribution networks needed to further such a business. We've just put the first east friesian rams over 550 of the poll dorset ewes and 400 poll dorset hoggets and had a 97 per cent conception rate. Plus we had already taken the big ones off in the first draft so next year we'll choose some of those replacements first. We're also putting poll dorsets over another flock to retain the poll dorset base to keep breeding. It's our intention to get lactating ewes more than once a year."
The family has shorn all their own sheep for the past eight years. It was Peter's idea to teach the boys to shear, says Christine.
"He was a shearer himself for a few seasons when he was young. He set them a goal once they'd shorn 1000 he would buy them a hand piece and it grew from there."
The Reeves are passionate about farming and most of their off-farm interests are related to agriculture. Peter is chairman of the TB Free Gisborne committee and a director of the Gisborne District Council's company Gisborne Holdings Ltd, which owns Tauwhareparae Farms Ltd.
Jon was a Hereford Youth Ambassador this year. Both Peter and his father David have held positions within hereford breeding circles as well – David was one of the founding members of the Eastland Hereford Club in 1968 and was president of the NZ Hereford Association in 1978/79.
David and Joy retired to Gisborne but are frequent visitors to Mokairau.
Christine grew up in Gisborne where her parents had a building business. She met Pete when she was 17 and the pair travelled overseas in the late 1970s working in a range of jobs, including shearing gangs.
"Since then I've been happily rearing our family, doing the farm administration and being the woman behind the good man," she says with a smile.
The family breeds and breaks in its own horses for use on the farm, Jon especially loves horses and doing stock movements on horseback, and they all love hunting and fishing.
"The younger kids are starting to appreciate a few dollars from fur from plucking possums too."
Peter says issues such as pest control and conservation are huge for them.
"We're caretakers of this land. We've been trying to look after it and improve it while we farm it. We have fenced seven big blocks of native trees and we can see the improvements there with undergrowth and increasing bird life. We've also fenced part of our 7.5km river frontage (both sides) on the lease block," he says.
"It's all about conservation and looking after it for future generations."